Paxful is a peer-to-peer crypto exchange and online wallet. Traders can buy and sell cryptocurrency using more than 350+ payment methods. Our review will explain wallet creation, account authentication, minimum deposit size, fees, etc. Learn if Paxful is good for you.
About Paxful
Paxful was founded in 2015 (initially known as EasyBitz). Today the company serves 4.8 million users and has 200+ employees, with offices around the world, including Hong Kong, Estonia, and Philipines. Their headquarters is located in New York (NYC), USA. Paxful has users from all around the world, active traders can be found everywhere, from the West coast of the USA to Japan.
The vision of the founder and CEO was to create a world in which everyone could have full control over their finances, and cryptocurrency would be the key to that.
The company's charity initiative #BuiltwithBitcoin was launched in 2017, supporting philanthropic projects in various countries including Gana, Nigeria, Kenia, and Uganda.
Coins
Users can buy Bitcoin (BTC), Tether (USDT), and Ethereum (ETH) on Paxful. Other cryptocurrencies are unavailable for purchase. It means that the platform is limited in comparison to competitors like Binance and Coinbase. A minimum transaction threshold exists.
More than 350 payment methods can be used to buy and sell Bitcoin, Tether, and Ethereum, including Ripple (XRP), Monero (XMR), Dogecoin (DOGE), PayPal, Visa, Western Union, during a personal meeting, etc.
Wallet
Paxful wallet is a free, convenient, and safe way to control cryptocurrencies or access the peer-to-peer market to buy and sell Bitcoin. The wallet is available for PC, smartphones, or through API.
Users get zero fees, cloud backup, and strict security measures. The online wallet is served by BitGo.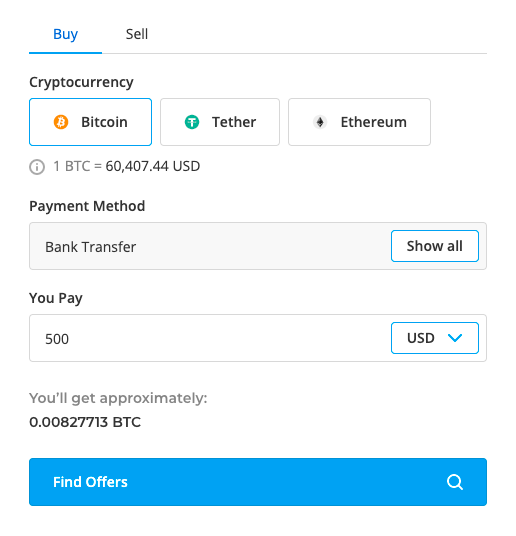 Account creation
To create an account, clients must sign up, and for some territories — verify their identity. Clients from North Korea and Cuba can't create an account. Additionally, if you go over the limit of the trades or account activity, then possible you'll need to provide additional verification, including video proof and rule knowledge test.
Limitations according to verification levels:
Level 1 – Email and phone verification. The trade limit is $1,000 and the wallet withdrawal amount is limited.
Level 2 – Identity verification. The trade limit is $10,000 and the wallet withdrawal amount is limited.
Level 3 – Address verification. The trade limit is $50,000. The wallet withdrawal amount is unlimited.
Level 4 – Expanded financial check. The trade limit is $50,000+. The wallet withdrawal amount is unlimited.
Paxful has the right to cancel a trade or delete an account, although allowing to withdraw funds. It can happen if the user breaks the rules or enters the account from a forbidden state. The company also uses QR codes to make address sharing simpler, and make trading more effective.
Mobile app
Paxful offers a Bitcoin app wallet available for download on iOS and Android (APK) devices. The app offers safe and fast access to the crypto market. Functionality also includes:
Real-time balance
Profile personalization
Access to transaction history
Access to real-time fiat to crypto conversion rates.
Send, receive and store cryptocurrencies in your mobile wallet, any time, any place.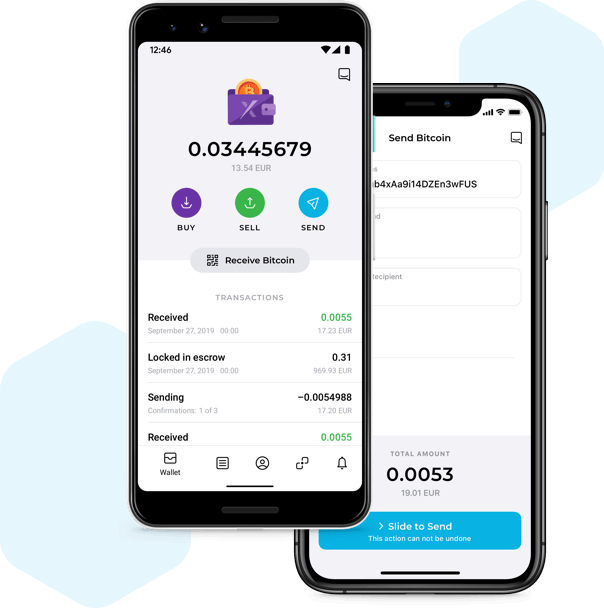 Deposit and Withdrawal
The exchange doesn't charge fees for a deposit. Paxful supports 350+ payment methods for topping up accounts. This is significantly more than any other exchange.
Payment methods include:
Wire transfer
Cryptocurrencies – including Litecoin and Dogecoin.
Goods and services – including gold, cars, and gaming items.
Gift certificates – including certificates from Amazon, Google Play, and Xbox.
Debit/credit cards – including Greendot, American Express, and VISA.
Online wallets – Buy Bitcoin with PayPal, Zelle, Google Pay, MPesa, and mobile phone top-up.
To start buying and selling Bitcoin you have to:
Sign up on Paxful and sign in.
Press on a buy button and choose Bitcoin.
Press show all payment methods and choose a method to your liking.
Choose a currency.
Choose an amount and a price.
Choose a country from a list.
Click «search for offers» and choose the one.
Confirm transaction.
Paxful wallets are free, although, a withdrawal fee is present. Users can withdraw Bitcoins to internal and external crypto wallets including Binance. Transfers to external wallets are covered by fees depending on the amount of withdrawal. Withdrawals from 20$+ have a fee of 0.0004 BTC. Withdrawals to the internal wallet are covered by fees based on corresponding limits. Withdrawals below 1,000$ a month are not subject to fees. Everything more than that means 1$ or 1% (what's more).
Prices and margin
Paxful offers a market price for Bitcoin by taking a median price of Coinbase, Bitstamp, and Bitfinex, but sellers can set their own exchange price. You can view an amount you can get for US Dollars under the price for Bitcoin section on buying page.
Margin is set by sellers. It can vary from 5% to 50%. Buyers can view sellers' conditions before accepting the offer or finding an alternative that suits them better.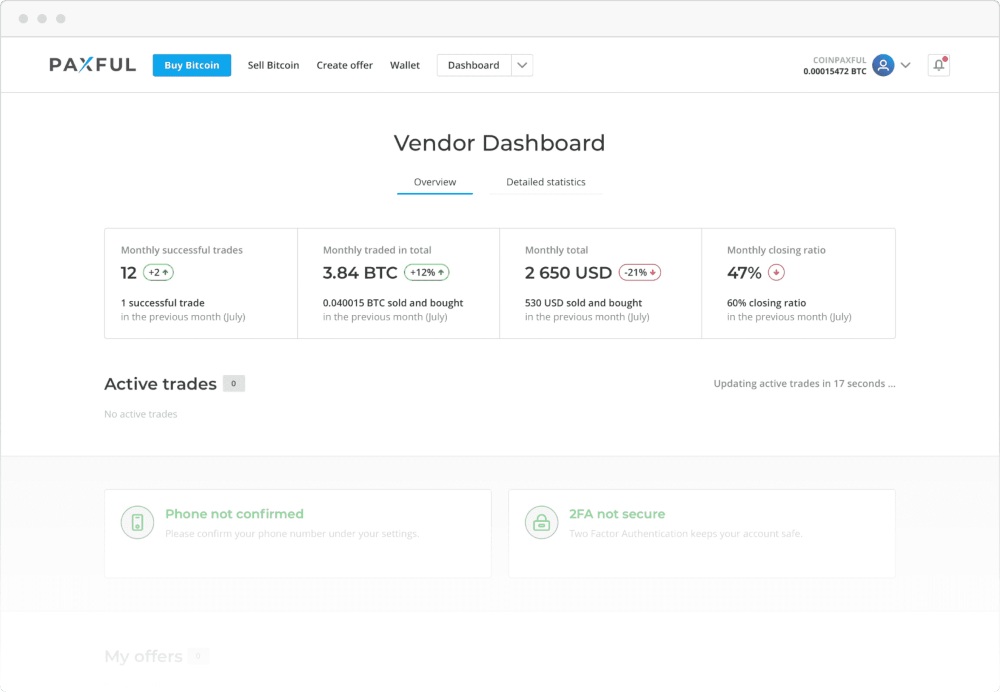 Speed
The speed of sending or buying Bitcoin on the platform can differ. Factors influencing this include availability of the seller, specific conditions of the seller, and payment method. To speed up transactions or decrease sending time, you should contact the seller directly through their usernames, and specify the details. As soon as Bitcoin will be sent, you'll get a notification through Paxful which will notify you about your transaction status.
Fees
A cryptocurrency exchange is covered by a 0.5% fee. Paxful doesn't charge fees for purchases, but, the exchange fee is set by other users and account owners who offer Bitcoin for sale. Transfer fees are applied to cryptocurrencies used for payments. Bank transfer has the lowest fee equal to 0.5%. Alternative methods include debit cards, digital currencies, and online wallets that have a 1% fee. Gift certificates are covered by the largest 5% fee. The escrow network fee is subtracted from the seller's wallet immediately and given to Paxful after a trade is finished.
Use Bitcoin fee calculator to learn your crypto price in fiat using prices from exchanges.
Pros
Reasons to use Paxful include:
Referral codes
Absence of fees
Safe escrow trading
Good wallet reputation
Mobile app with full functionality
Hundreds of payment methods
Supports charities with Bitcoin
Ability to choose a crypto-trader according to your needs.
Cons
Unregulated exchange.
Limited tech support.
Limited choice of currencies.
Tech support
User support is limited. The online contact form and chatbot are accessible through an icon in the lower right corner of the website or in the mobile app. An email address is not used, as well as a phone number. The exchange's physical mail address: 3422 Old Capitol Trail PMB# 989, Wilmington DE, 19808, USA.
Paxful also offers a lengthy также FAQ page and a help center (knowledge base). Such topics are covered as account creation, ID verification, how to buy Bitcoin, plus language selection. Social media platforms include Twitter. There you will find help and the latest news.
Safety
Peer-to-peer transactions can create an unfair trading environment. Some people online question Paxful's honesty, and flag-related PayPal scams. We recommend conducting all trades through Paxful, to ensure escrow protection and be able to make a complaint. This will significantly reduce the risk.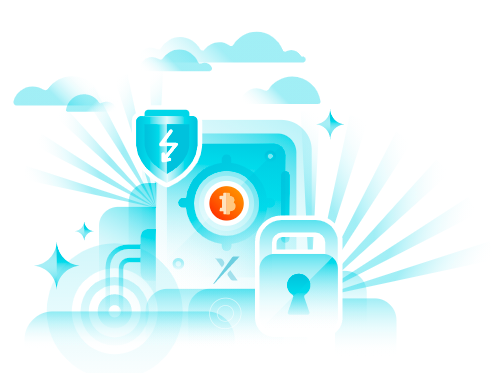 Paxful wallet BitGo guarantees high-tech security measures for clients' funds. This includes 2FA for login, 3d secure integration, and two-factor confirmation for all transactions.
Paxful verdict
Paxful is a unique peer-to-peer crypto market and wallet. It supports more than 350 payment methods, and safe authorization, and gives wide opportunities for crypto traders. Limited user support and lack of government regulation can spurn some investors. Also, remember about the high fees set by sellers and a small variety of digital currencies available for investment.